One of the questions I get asked most when it comes to dental hygiene is about the floss I use and what I can recommend. Pretty much everybody who is interested in Zero Waste knows about bamboo toothbrushes, tooth powder and homemade toothpaste. However, when it comes to dental floss most of us are at a loss.
Regular dental floss is just waxed nylon, rolled up in a small plastic box. Just like plastic, nylon is derived from crude oil. Unlike plastic, it does not take 500 to thousands of years to decompose, but "only" 50 – 80 years. #notimpressed
When you are vegan like I am, or you try to find a cruelty-free option when it comes to cosmetics and toiletries, then you will be at a loss here. The options are grim: The floss is either compostable, nylon- and plastic-free, but not vegan, because it is made from silk, for which silk worms are boiled alive. The vegan options are all made from nylon, in which animals might get caught and most likely die a gruesome death.
So here are your options, yay…
Silk Floss (Radius)
Radius is probably the best-known brand. You can find them at Whole Foods and other health food stores. However, even though they seem to love to advertise how "Good for the earth" their floss is ("Not only is our floss 100% vegetarian, it's also 100% biodegradable"), they still don't mind putting their floss into a plastic case. On the package I could find information on the floss (biodegradable in 60 – 90 days), on the paper packaging (recyclable), but none whatsoever on the plastic container. As if it didn't exist.
Anyway, they also sell their floss in sachets, which I fand rather wasteful. I wasn't able to open the package to check as to what kind of material the sachets themselves are made of. Seems like they are plasti-free at least, I remember something on the packaging stating "100% biodegradable packaging". Still, not impressed.
The price was steep compared to regular floss (30 m for £3.90), but OK when you think about the fact that it's silk, a material generally more on the expensive side.
Radius also sells vegan floss, but it's nylon and comes in the plastic case. So no real gain there compared to regular floss.
Silk floss with beeswax (Vömel)
The German manufacturer Vömel sells their silk floss in a tiny, yet very classy vial. Their products are usually packaged in another layer of plastics, but if you order the floss at the German online store monomeer.de you will be able to to buy it plastic-free, because Monomeer sends Vömel paper bags to use instead of the plastic packaging. I also found the floss in the newly opened Zero Waste online store called Zero Waste Laden. The store was opened by the Zero Waste Blogger Olga and her husband Gregor.
Bad news is, both online stores are in German (I'm sure Google Translate can help though), and I don't think they offer an international shipping option. However, I know that monomeer has a great customer service, and I'm sure as true zero wasters Olga and Gregor will be thrilled if you show interest in their products. And if you ask nice, they might send it abroad. The two years worth of floss I ordered fit into a single envelope, so it also shouldn't cost a lot.
The floss itself is a bit pricey. 10 m with vial cost 3.95 € (= £3.14 or 4.46 US$). 2 x 10 m without the vial are 4.90 € (£3.89 or 5.53 US$).
Unravel a piece of silk fabric
Béa Johnson's go-to method, is to unravel a piece of silk fabric, twisting a couple of threads together, and to use that to floss.
Update: I was just told that there is at least one producer of "peace silk" who lets the silk worms hatch! So if you can get your hands on a piece of peace silk, that might be a very eco-friendly option that might or might not count as vegan, also depending on your motivation for being vegan.
Vegan floss without a plastic case (Ecodent)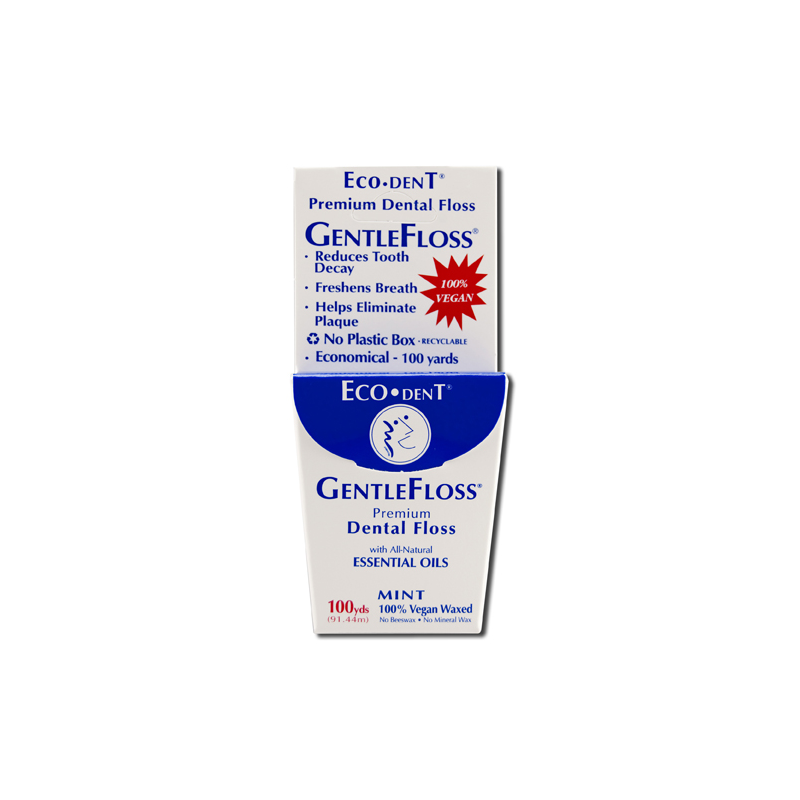 I contacted Ecodent a couple of months ago, because I couldn't find any information on the material and whether or not their floss was biodegradable. Their live-chat customer service agent was unable to answer my question, and when the reply to my email arrived, what it said was: "We have not tested the floss for the amount of time it would take to biodegrade but I did find on-line that dental floss can decompose in 1-5 years." I mean, seriously??
So I googled "How long does it take for dental floss to decompose." The very first hit said 1-5 years in the preview. I clicked on the link, that led me to some handout for some summer camp. Right in the list it also said a plastic bag needs only 20-40 years to decompose, instead of the usual number in the hundreds. Somebody really went out of their way to find some reliable information.
Well, it is true that they use cardboard packaging, don't have a plastic case, and provide 100 yards (91.44 m), but they failed to mention that there is another plastic wrapper inside the cardboard packaging, and that there is also 2 plastic stickers on the outside.
At least it is really affordable with only 5.49 US$ for 100 yds.
So what is the right decision when you live vegan and zero waste?
I'm afraid there is no right answer to that question. It's the choice between boiling silk worms alive or something derived from crude oil that might also end up strangling animals. Great.
I really don't get it. In Europe there are already bamboo toothbrushes with nylon4 bristles that do decompose within 18 months! You can even compost them in your yard or wormbin! Why don't they use it for dental floss?
I have tried cotton threads, but they tear really easily, even when you twist multiple threads together.
Last year I saw this photo online that I couldn't get out of my mind. Nylon threads look so benign, but they are tear-proof which is a huge problem.
(More here 😢)
After seeing this photo I decided to order the Vömel silk floss, even though they are clearly not vegan. At least this way I'd know where the floss will end up – which is in our very own worm bin along with our kitchen scraps.
So I decided to place a collective order and decided to get enough floss to last me two years.
Only later did I find out that in Germany (where we live) waste does not get landfilled anymore! If it cannot be recycled, it will be incinerated. (Find out more about what happens to the trash after collection here) So as long as you don't recklessly toss your floss away, it will not end up somewhere where it will be able to hurt animals.
I'm still not sure what I will do next year when I will have used up the silk floss. I'm still hoping that some vegan, cruelty-free and biodegradable dental floss with no plastic case or other plastic packaging will miraculously pop out of nowhere, falling right in my lap.
Well, and if not… Well, than I guess I might have to give flossing with hair a try. Well, pre-historically humans are said to have used horse hair to floss their teeth. And in the end, when you think about it, it is not really more absurd than using fibres that came out of the butt of a worm, coated in bee discharge to floss…